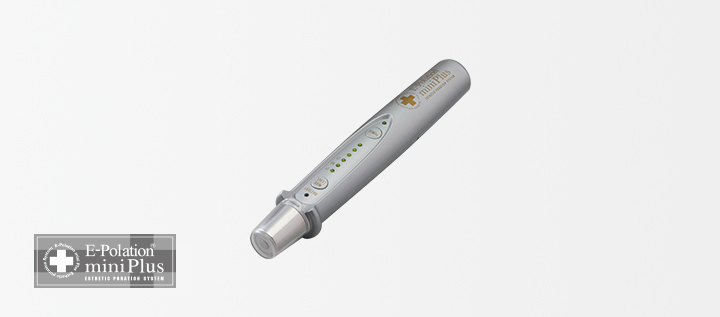 1. Polation mode
The official name is "Esthetic Polation" and is a new esthetic treatment that uses a special pulse current to permeate many active ingredients (including high polymers such as collagen and hyaluronic acid) deep into the skin to enhance the beauty effects. Please use the genuine cosmetics "EP Essence (R) and 1/2 (Half) Series" sold separately that are suitable for the purpose of giving beauty effects on the places on your body you will treat.

2. Micro-current mode
Micro-current mode uses an extremely weak electric current similar to the biological current present in your body. This micro-current waveform gives a stimulus to your skin to revitalize tired skin. Although there are individual differences, the feature of this mode is that there is almost no sensation. Please use the genuine cosmetics "Easy Essence" sold separately on the places on your body you will treat.

3. Drainage mode
Drainage means "discharge" in French and is used as the name of esthetic treatments. The drainage waveform (with a massage effect) derived from this gives a stimulus to places where your skin is shallow to neatly firm up your face.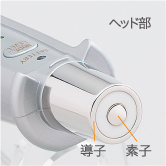 The head of the "E-Polation Mini Plus" is energized by the element and electrode touching the skin. It has become possible to treat fine parts of the body (e.g. the inner/outer corners of the eyes and lips) by employing an easy-to-use pen type head (one point element). It is possible to expect a comfortable sensation and beauty effect from the esthetic polation mode by the original waveform based on a theory developed by our firm.
Mode selection
You can select your preferred treatment from three modes: Polation mode (P), micro-current mode (M) or drainage mode (D).


Output level adjustment
There are six output level adjustment levels for each treatment mode. You can confirm with your own eyes the sensation and output level with the adoption of a swing level meter.


Automatic timer
There is a safe design in which the current automatically switches off if the output time exceeds ten minutes after the start of treatment.


Battery warning
If the remaining amount of the batteries goes down and the voltage weakens, the battery warning light will flash red.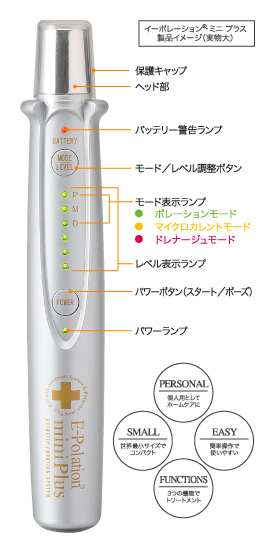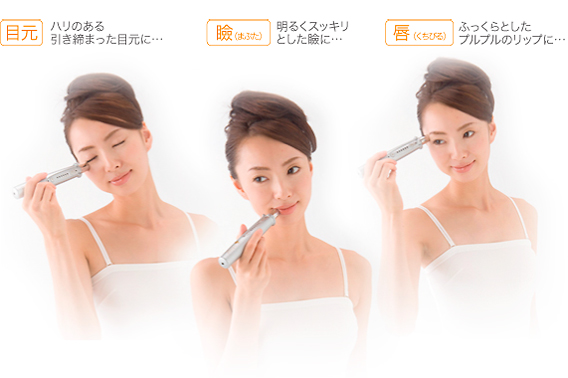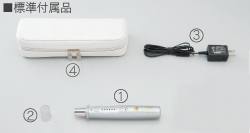 Product name
E-Polation Mini Plus
Rated voltage
DC5v or two AAA batteries (3V)
Rated current
0.1A
Power consumption
0.5W
Raw Materials
Stainless steel (head)
ABS plastic (main unit/protective cap)
Main body outer size
W31×D28×H180(mm・maximums)
Weight
95g(including batteries)
Price
49,500 yen (excluding tax)
Country of manufacture
Japan
Product includes
(1) Main unit ×1
(2) Protective cap ×1
(3) AC Adapter ×1
(4) Protective Case ×1
* User's manual (with Warranty) ×1
AAA Batteries x 2

You can give various kinds of treatment with just this one device depending on the type of EP Essence Half Series that you use. You can depend on a wide array of beauty effects.

This product is intended for personal use in the home and does not have the capability to be used as a commercial cosmetic product. This product cannot be used commercially in esthetic salons and other business establishments.

* E-polation and EP Essence are registered trademarks of Beatific Co., Ltd.