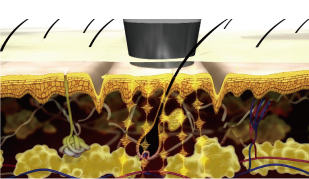 We plan, develop and manufacture products centered on beauty/health equipment, cosmetics and nutrition functional foods for both personal and commercial use through technological development with a scientific basis from our own R&D. Our R&D is broadly divided into three areas: Basic research for which there is no prospect of commercialization at the point in time it is carried out, applied research which aims to apply this from basic technological development to commercialization and commercialization research which looks toward product development based on the results obtained in applied research and market needs.

All the research and development in our firm is carried out in cooperation with our research teams and partner organizations. The hair restoration technologies and basic technologies with electroporation in the beauty area, which are patented technologies developed by our firm, were created from this system.


Patent Number: Patent No. 5397974
Invention Name: Drug Administration Device
Patentee: BEATIFIC Co., Ltd.

Patent Number: Patent No. 5397975
Invention Name: Hair Restoration Agent Introduction Device
Patentee: BEATIFIC Co., Ltd.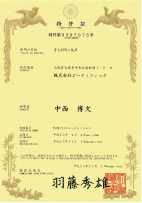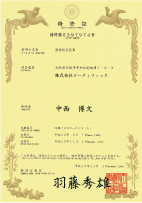 We work on joint-research and the implementation of licenses patented by universities under the aim of developing new technologies which can be applied to health/beauty equipment and discovering new functions with naturally derived raw materials which can be applied to the development of cosmetics/nutrition functional foods through cooperation with various university laboratories. Moreover, we carry out a lot of research and conduct many usefulness tests under the aim of obtaining evidence (scientific basis) for usefulness surveys with the products developed by our firm.

Angiogenesis and wrinkle inhibitory effects from fucoxanthin and fucoxanthinol
Professor Tatsuya Sugawara (Doctor of Agriculture),
Kyoto University Graduate School

Research relating to anti-obesity functions on humans from the combined use of NARLSONIC and raspberry ketone
Professor Isao Suzuki (Doctor of Medicine)
Prefectural University of Kumamoto Graduate School (Nagoya Keizai University Graduate School)