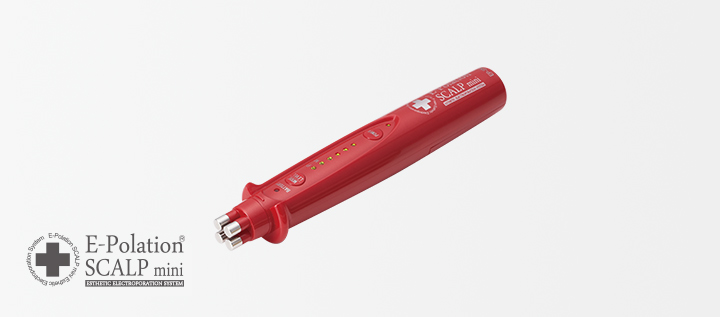 Enhances permeation to the hair roots


The polation mode delivers FGF-7 direct to your hair roots while you enjoy a comfortable sensation from the original waveforms.



Condition the scalp environment to be healthy


The micro current mode gives vitality to scalps which have seen a decline in metabolism by a weak pseudo-biological electric current to give you a youthful and healthy scalp.
The four easy-to-use pinheads get up close to the areas of the scalp you are concerned about accurately and so efficient treatment is possible.
In addition to use with an AC adapter, this is a cordless device that can be used with AA batteries. This is a light device with incredibly easy-to-use operations. The device comes with a pouch with which you can also put in the AC adaptor and dedicated essences, so storage is also simple. This is very convenient for when traveling and for when carrying around.
You can choose from either iron red or champagne gold for the color of the device so both men and women can carry out scalp care with a sense of fashion. The "E-Polation" series is a pure domestic brand with reliability that comes from being designed and manufactured in Japan.

Functions
■Mode selection
You can select your preferred treatment from the two modes of polation mode (P) and micro-current mode (M).


■Output level adjustment
There are six output level adjustment levels for each treatment mode. You can confirm with your own eyes the sensation and output level with the adoption of a swing level meter.


■Automatic timer
There is a safe design in which the current automatically switches off if the output time exceeds ten minutes after the start of treatment.


■Battery warning
If the remaining amount of the batteries goes down and the voltage weakens, the battery warning light will flash red.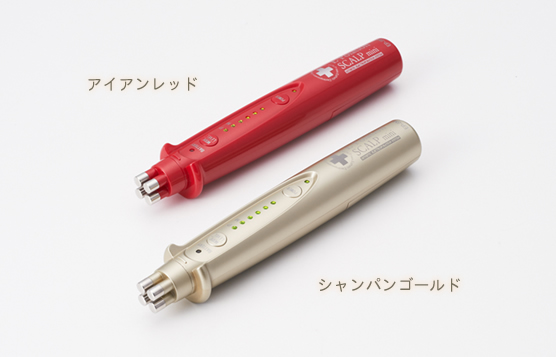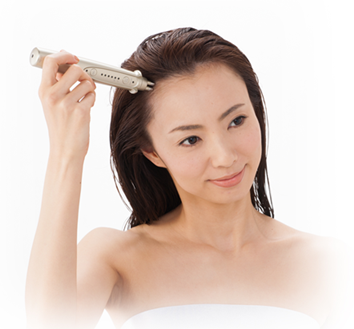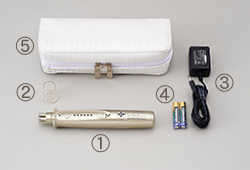 Product name
E-Polation Scalp Mini
Rated voltage
DC5V、又は単4充電池2本(3V)
Rated current
0.1A
Power consumption
0.5W
Raw Materials
Stainless steel(Head)
ABS resin (Main unit, Protective cap)
Main body outer size
W31×D28×H180(mm・maximums)
Weight
75g(Including battery)
Price
52,500 yen (excluding tax)
Country of manufacture
Japan
Product includes
(1) Main unit ×1
(2) Protective cap ×1
(3) AC Adapter ×1
(4) AAA Batteries ×2
(5) Protective case×1
* Operating instruction manual(includes certificate of warranty)×1

This product is intended for personal use in the home and does not have the capability to be used as a commercial cosmetic product. This product cannot be used commercially in esthetic salons and other business establishments.

* E-polation and EP Essence are registered trademarks of Beatific Co., Ltd.


FGF-7 promotes hair growth by encouraging the hair matrix cells that are the source of hair to grow and divide. Furthermore, the hair growth promoting factor of FGF-7, which is also called keratinocyte growth factor (KGF), makes it possible to expect improvement to flabbiness over your entire face by producing corneocytes on thin and flabby scalps to tighten the scalp itself through application on the scalp.
Bio Ultra Scalp Essence

Main ingredient:
Fibroblast growth factor 7 (FGF-7) 200μg / 100mL

Bio Scalp Essence

Main ingredient:
Fibroblast growth factor 7 (FGF-7) 60μg / 60mL

Bio Scalp Essence Half

Main ingredient:
Fibroblast growth factor 7 (FGF-7) 15μg / 30mL