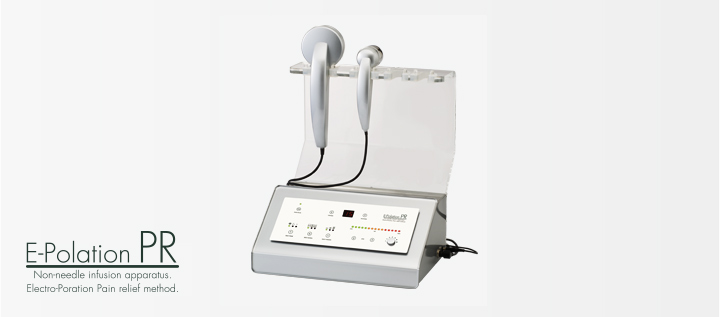 This is a chondroitin and glucosamine infusion treatment which does not use injections that can be introduced in orthopedic surgeries and acupuncture/osteopathic clinics.
The "needleless pain relief method" is a "method of relieving pain without side effects by approaching the affected areas directly" through the use of an electroporation introduction device and complex introduction solutions aimed at the suppression of pain and inflammation.
Chondroitin and glucosamine, which have been recognized as having an action that relieves inflammation and pain, are introduced directly to the affected areas on patients who suffer from arthrosis of the knees and lower back pain conditions without injections by an electroplating introduction device that contains the patented technology of our firm using introduction solutions formulated in high concentrations with MSM and hyaluronic acid in contrast to oral ingestion for which it is difficult to feel an immediate effect.
No injections or drugs are used, so treatments can be carried out not only by orthopedic surgeries but also in acupuncture/osteopathic clinics. This is helpful in building a self-care menu that aims to improve quality of life without having to penetrate skin or muscle tissue and with no need to rely on taking painkillers for which there is a concern of side effects on liver functions and the upper gastrointestinal tract.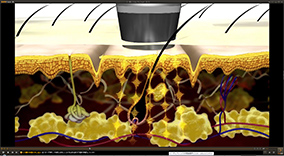 Essentially, electroporation is a biotechnology used in gene recombination technologies as a method in which electrical stimulation is utilized to directly infuse useful genes into target cells. The "E-Polation Series" are devices based on this basic electroporation introduction technology that has been developed as a method to seek beauty and health effects with the application of this electroporation technology.
Electroporation introduction technology applies special short and strong pulses to the skin to form transmission pathways in epithelial cells and especially the inner wall cells of holes such as pores/sweat glands in the skin. Through this, it has become possible to introduce under the dermis layer normally difficult to permeate hydrophilic molecules, ultra-high-molecular hyaluronic acid and succinyl atelocollagen, as well as active ingredients such as fucoxanthin, phosphatidylcholine, FGF-1, FGF-7, chondroitin sulfate and N-acetyl glucosamine.

Electroporation machines are solely for medical departments and clinics that also handle surgeries on joints
Product name
E-Polation PR
Rated voltage
AC100V
Rated frequency
50Hz/60Hz
Power consumption
5W
Main body outer size
W310×D280×H338 (mm・maximums)
Raw Materials
Steel plate and acrylic glass (main unit)
ABS resin (probe)
Stainless steel (probe head)
Weight
About 5Kg
Country of manufacture
Japan
Price
900,000 yen (excluding tax)
Please inquire for the clinic price. *Leasing and credit are available.
*Please take sufficient care when handling the acrylic glass.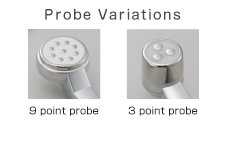 | | |
| --- | --- |
| Main body | ×1 |
| 9 point probe(Integrated with connection cable) | ×1 |
| 3 point probe(Integrated with connection cable) | ×1 |
| Ion guide (stick or plate) | ×1 |
| Hand-held electrode for the ion functions | ×1 |
| Power cord (with plug socket) | ×1 |
| User's manual | ×1 |
| Warranty card | ×1 |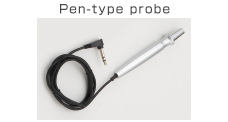 Pen-type probe (integrated cord model)
×1
Option price
57,500 yen (excluding tax)
Please inquire for the clinic price.

Dedicated needleless pain relief method introduction solution
EP Essence CSA

This is a high-quality dedicated needleless pain relief method introduction solution that has been developed for orthopedic surgeries and acupuncture/osteopathic clinics.